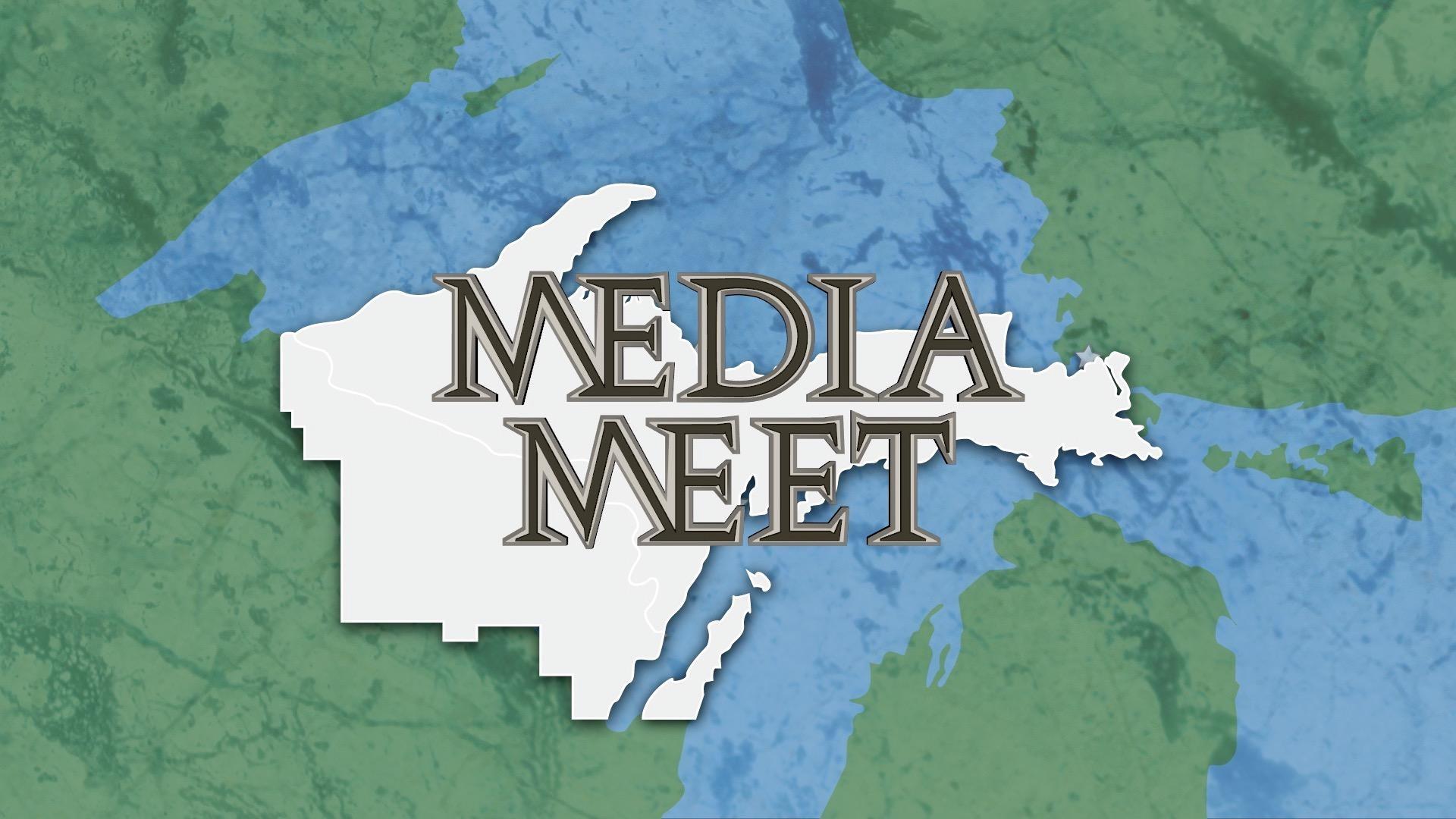 Media Meet is WNMU's weekly public affairs program which delves into the issues that are important to the people of the Upper Great Lakes Region. During the half-hour program community leaders and special guests of local, regional, national, and international prominence, engage with our host and media guests in intelligent discussion and candid debate regarding topics of local interest. With its unbiased, quality public affairs reporting, Media Meet has been a cornerstone of WNMU-TV's local production schedule for more than 20 years.
Media Meet airs on both WNMU-TV and Public Radio 90.
Saturdays at 6:30 pm ET on WNMU-TV, repeating Sundays at 2p.
Sundays at 7:30 am ET on Public Radio 90, repeating Mondays at 5:30a and 3:30p.
Watch full episodes of Media Meetonline and with the PBS Video app. Or listen to Media Meet podcasts from Public Radio 90.
Recordings of recent Media Meet programs are available on DVD for $19.95, which includes shipping. Call 800-227-9668, or 227-1300 during regular business hours (8 am-5 pm ET weekdays) and order by phone with your credit card. Please let us know the program title or broadcast date of the program you want to purchase when you call. Or download and print our video order form to order by mail.
Media Meet is made possible with major funding from The Ray & Peg Hirvonen Foundation.
*Please Note: Concerning the episode titled "Vaccine Mandates: When Rights and Responsibilities Collide" with guest Karl Bohnak. At several points in the program, Karl Bohnak's opinions about mandates broadened into opinions about vaccinations and the asymptomatic spread of the virus that causes COVID-19. His opinions conflict with recommendations of the medical community. As noted in the show, if you have questions about vaccines or COVID-19 spread, you should consult your local healthcare professional or health department and in no way do his opinions represent WNMU-TV or it's sponsors.
On many occasions the past year, Media Meet has engaged area health officials, community leaders and subject matter experts to bring you the latest developments on COVID-19. We intend to do so again on our next show and in the months ahead. Thank you.
October 2: COVID-19 and Vaccinations Update
In the midst of this fourth COVID-19 wave, area health officials provide an update on Upper Michigan cases, vaccination rates, and the ongoing public debate over mask mandates for students.
(#2129)
Saturday, 10/2 at 6:30 pm
Sunday, 10/3 at 2 pm
October 9: U.P. Census Data–Crunching the Numbers
Results from the census are finally in and people are busy analyzing data to see what it may mean for their communities. This week, we assess the potential economic, social and political implications the data shows for the Upper Peninsula.
(#2125)
Saturday, 10/9 at 6:30 pm
Sunday, 10/10 at 2 pm
October 16: Center for Native American Studies at 25
Twenty-five years ago, Northern Michigan University established the Center for Native American Studies--a cultural and educational program centered around Indigenous themes, perspectives and people. This week, we take time to revisit those early days at the Center and see how it has grown into an indispensable part of the NMU experience.
(#2130)
Saturday, 10/16 at 6:30 pm
Sunday, 10/17 at 2 pm
October 23: Center for Native American Studies at 25
From pandemic-related supply chain issues to a shortage of skilled talent, it hasn't been business as usual for Upper Michigan manufacturers. Mike assesses the situation with his guests.
(#2131)
Saturday, 10/23 at 6:30 pm
Sunday, 10/24 at 2 pm
Program topics are subject to change in order to cover timely news and events. Check back for schedule updates.
Listen on WNMU-FM - Public Radio 90
Sundays at 7:30 am
Mondays at 5:30 am & 3:30 pm
Recent Media Meet Episodes