How to Watch WNMU-TV Channels
WNMU-TV PBS broadcasts 24 hours per day on four digital channels: WNMU-TV PBS (13.1) our primary channel featuring the best of PBS and locally scheduled programs in high definition; WNMU PBS Kids (13.2) featuring the PBS Kids 24/7 channel in standard-definition; WNMU-TV Plus (13.3) featuring the PBS west coast feed, plus locally scheduled series 7-10 pm Monday-Friday; and WNMU-TV MLC a statewide public television partnership offering instructional content to support the education of students and to provide alternative resources for families and teachers.
WNMU-TV PBS (13.1), our primary channel, is found on both Charter Spectrum Cable channels 13 and 783 in HD (782 in Sault Ste. Marie.) WNMU PBS Kids (13.2) is available on Charter Spectrum Cable channel 199. WNMU-TV Plus (13.3) is found on Charter Spectrum Cable channel 195 (197 in Sault Ste. Marie.) Availability varies with your location, your subscription tier and your TV receiver. NMU's information channel (with audio from WNMU-FM Public Radio 90) is on Charter Spectrum channel 190 where available. If you have questions about receiving WNMU-TV on Charter Spectrum Cable, please contact Charter's Customer Support Center at 800-545-0994.
WNMU-TV PBS, WNMU PBS Kids and WNMU-TV Plus are available on many smaller cable providers. Please contact your local cable subscriber for details.
WNMU-TV PBS Channel 13.1HD is also available to Dish Network and DirecTV satellite service subscribers located within the 10-county Marquette Designated Market Area. See a coverage map on our About Us page.
WNMU-TV PBS Channel 13.1HD is available for live streaming online.
At this time, WNMU-TV MLC Channel 13.4 is only available over the air and streaming online.
If you have questions about our online schedule or digital broadcasts, please email us at dtv13@nmu.edu.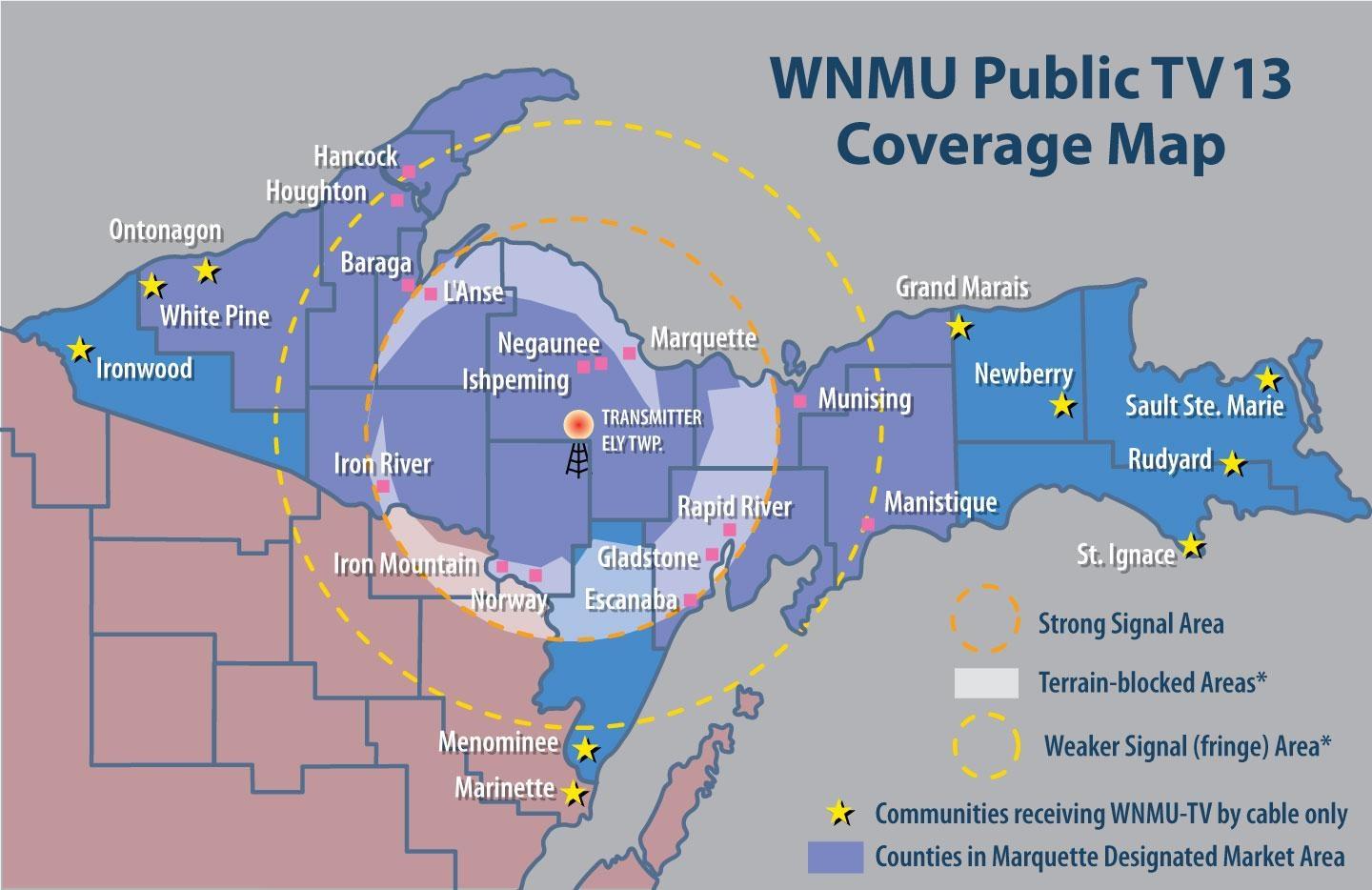 WNMU-TV Partners who make a yearly contribution of $60 or more (or ongoing $5 per month as a sustainer) are eligible for WNMU Passport, our most popular member benefit that provides you with extended access to an on-demand library of PBS programs.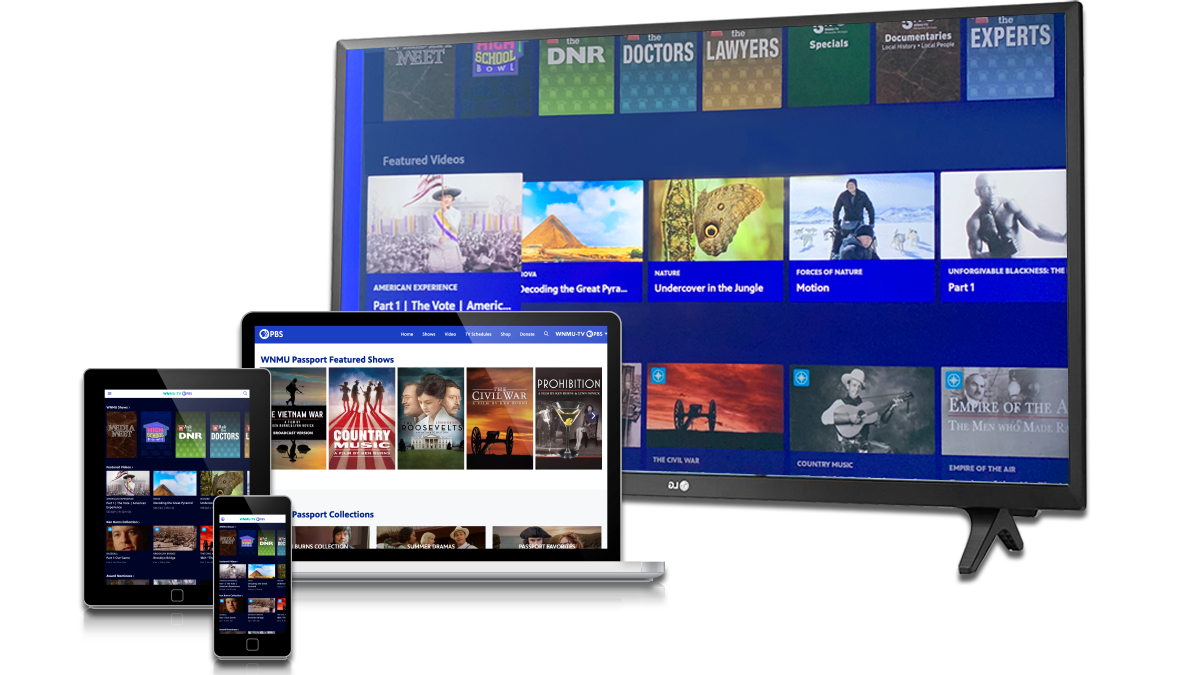 The coverage map above is a simplified representation of our signal area. Our broadcasts cover a large area of the central Upper Peninsula. Over-the-air antenna reception varies with terrain and many places require an outdoor antenna. There are some low areas of the U.P. that are shadowed or blocked from our broadcasts by high rocky terrain, including the city of Marquette, areas along Lake Superior from Harvey up to the Big Bay area, and some regions that are below bluffs in the Iron Mountain, Escanaba and Gladstone areas. Traditionally, viewers in these areas have been forced to subscribe to cable or satellite in order to watch WNMU-TV.

If you are thinking about "cutting the cord" and getting an antenna, we advise you to do some research first and find out which local stations you are likely to receive at your location. It's a good idea to talk to neighbors about what stations they receive, and consult with a local business that specializes in TV antennas before purchasing an antenna. Check here for schedules of available antenna channels in the Marquette viewing area.
We can help you find more detailed reception maps of your area. If you have questions about our broadcasts or how to watch, email us at dtv13@nmu.edu. See our list of Frequently Asked Questions.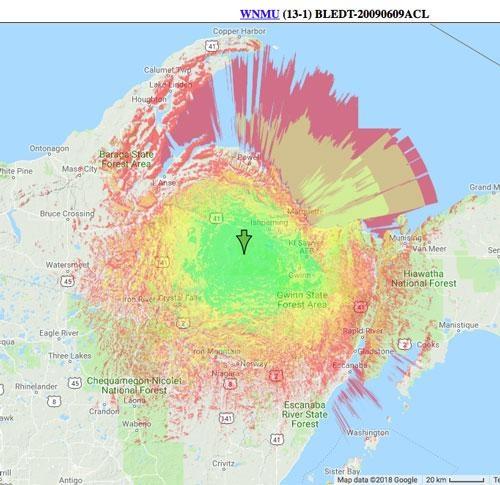 Check our Schedule Page for overnight and daytime primetime program repeats. Click on a program title in our online schedule grid and a pop-up window will appear with program information, including a link to "view more broadcast times" (this link will only be visible if more broadcast times are available.) Hint: you can go back in time a few days in the Schedule Grid.
You can also watch many programs online after they air. Click the link below to see a great selection of PBS and WNMU-TV local programs you can watch online at any time.